Entirely-filled counter-pressure rolls with cylinder rolls
The main characteristic of counter-pressure rolls is that they have high-thickness outer races, rotating in direct touch with the grooves.
They can support high loads, impacts and angular misalignments, thanks to a special geometry of the outer surface generator.
The axial guide (non-dismantable) gives this counter-pressure roll the ability to stand axial thrusts.
The entirely-filled design determines very high load capacity.
The versions with labyrinth plate protection or watertight are also available.
General Specifications
Materials
Outer races: Steel UNI 18NiCrMo5 casehardened and tempered with final surface hardness 62±2 HRc
Inner races: Steel UNI 100Cr6 hardened and tempered; final hardness 60±2 HRc
Thrust blocks: Steel UNI 20MnCr5 casehardened, hardened and tempered; final surface hardness 60±2 HRc
Rolling bodies: Steel UNI 100Cr6 hardened and tempered with final hardness 62±2 HRc
Tolerances: According to DIN 620
Precision class: PO
Radial clearance: According to DIN 620
Load ratings: According to ISO 76 & ISO 281
Click on the picture to magnify it
This roll is also performed under part no. NUTR … .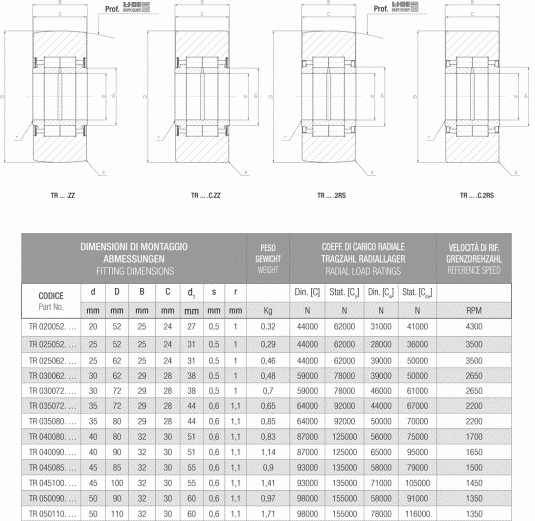 TR 020052 = NUTR 20 52
TR 025052 = NUTR 25
TR 025062 = NUTR 25 62
TR 030062 = NUTR 30
TR 030072 = NUTR 30 72
TR 035072 = NUTR 35
TR 035080 = NUTR 35 80
TR 040080 = NUTR 40
TR 040090 = NUTR 40 90
TR 045085 = NUTR 45
TR 045100 = NUTR 45 100
TR 050090 = NUTR 50
TR 050110 = NUTR 50 110